In Memory
Katherine Diane Roop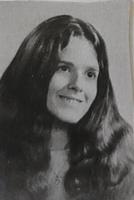 Deceased Classmate: Katherine Diane Roop
Date Deceased: 01-9-1984
Age at Death: 28
Cause of Death: Seizures
Classmate City: Tulsa
Classmate State: OK
Classmate Country: USA
Survived By: Sons Anthony Israel Roop, Jonathan Master Daughery III And two twin girls Sarah Katherine Daugherty and Rachel Naomi Daugherty

I'm not a classmate. Katherine Diane Roop was my mother. She passed away on Jan. 9th 1984 at St. John's Hospital in Tulsa Ok,. I was only three at the time. I don't know much about her. But I miss her a lot.
Rachel Naomi Daugherty Green
noreply@classcreator.net